The calendar is updated every five minutes and is only an approximation of availability.

Some hosts set custom pricing for certain days on their calendar, like weekends or holidays. The rates listed are per day and do not include any cleaning fee or rates for extra people the host may have for this listing. Please refer to the listing's Description tab for more details.

We suggest that you contact the host to confirm availability and rates before submitting a reservation request.
New York & Atlantic City, City Break
In some darkened doorways there still exists the essence of prohibition and the temptation of forbiden fruits in the Big Apple.
The thrill of a bit of lawlessness lives on in New York and today a whole city waits for you to explore its many attractions and excentricities, both old and new.
Spend a few nights in New York before taking the iconic Greyhound Bus Service to Atlantic City where you can experience the thrills and spills of the original Boardwalk City - its Casinos, Nightlife, Shopping and Historic Attractions.
New York
It has been said that "If you're bored in New York, it's your own fault." In fact, there is so much to see and do in New York that there's little chance of you becoming bored. It's nearly impossible to experience everything New York has to offer in one visit and with world-class museums to iconic landmarks on offer, there are more than enough reasons to visit the Big Apple.
Art and History
Some of the country's best museums are located in New York, giving you a chance to soak up a dizzying amount of art and history during your visit. Manhattan offers the opportunity to check out the fossilized dinosaur bones and other wonders of the natural world at the Museum of Natural History and then head to the Metropolitan Museum of Art to see works from ancient Egyptian art, paintings by masters like Caravaggio and modern pieces from celebrated artists like Jackson Pollock. For even more visual treats, head to the Museum of Modern Art, the architecturally impressive Guggenheim Museum, the Brooklyn Museum or any of the numerous small contemporary galleries in the area.
Population and Diversity
The population of New York in 2010 totalled over 8 million, making it America's most populous city by a landslide. This means that there is literally no other place in the United States where you'll be surrounded by so many people. Because people from all corners of the globe live in and visit this area, travelling to New York gives you a chance to come in contact with a variety of different cultures. There are approximately 200 languages spoken in New York, and you can sample regional cuisine from faraway places such as Korea, Africa, India and France.
Christmas in New York
New York is a top travel destination over the winter holiday, offering a variety of Christmas-themed activities. Don't miss the impressive Rockefeller Center Christmas tree with its 30,000 lights, or the decorations at Macy's, famously featured in the classic movie "Miracle on 34th Street." For more Christmas fun, go ice skating in Central Park, visit the famed FAO Schwarz toy store, see the New York City Ballet production of "The Nutcracker," or just wander the city and enjoy the lights, decorations and creative window displays.
Sightseeing
Whilst in New York, you'll get a chance to see such iconic American sights as Grand Central Terminal, Times Square, the New York Public Library and, of course, the Statue of Liberty. The iconic Empire State Building features stunning 80-mile views from the observatory on the 86th floor. For more city views, head to Brooklyn Bridge Park and have your picture taken with Manhattan's skyline as the backdrop.
Road Trips
If you hop in the car and drive a mere 30 minutes or so outside Manhattan, you'll find yourself passing through quaint small towns as well as through breathtaking scenery. In the autumn, head to New York's Hudson Valley and visit towns such as Sleepy Hollow or Cold Spring to experience the autumn coloured foliage, or visit one of the many parks in the area such as Franklin D. Roosevelt State Park or Hudson Highlands Gateway Park. When the weather warms up, take a trip to the Hamptons, Fire Island or scenic Montauk to relax by the water.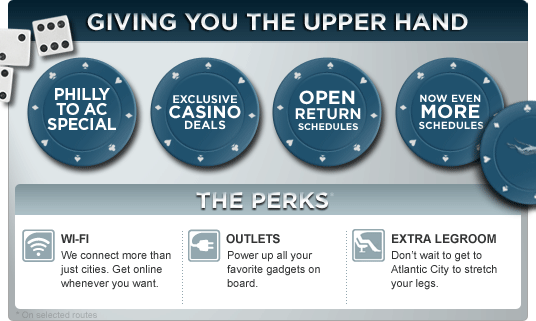 Atlantic City
After the Camden and Atlantic Railroad was built in the mid-19th century and grand hotels sprang up along the seafront, hordes of visitors arrived in "America's Playground" for its beach, sophisticated entertainment, quirky attractions and undercurrent of sin. Though A.C. has suffered a few turns of fortune over the past century and a half, the old excitement is back. A new generation of casino-hotels offer not just gaming, but a dizzying range of diversions, from early-morning yoga to late-night burlesque. Whether you want glitz or kitsch, it's all packed into just under 12 square miles. Get some five-star R&R at a luxurious spa, dine at restaurants helmed by some of the country's top chefs and take in a world-class show (everyone from Ol' Blue Eyes to Beyoncé has played here). Or head inland for a steak at one of Nucky's old hangouts, and save a bundle on holiday shopping at the city's outlet stores. With apologies to Boardwalk Empire's Senator Edge: You can expect to have everything.
The close proximity of Atlantic City to New York City and Philadelphia make it an appealing destination for people seeking a short excursion and there are plenty of reasons to go to Atlantic City. Whether your tastes run toward sightseeing or if you prefer more exciting activities, such as gaming, Atlantic City provides options for every type of traveller, all within a relatively small, easily accessible area.
Historic Attractions
A stroll along Atlantic City's seaside boardwalk and visitors can't help but notice the abundance of historic architecture, including Boardwalk Hall, a Prohibition-era structure known for its Art Deco facade and massive arching rooftop. However, there are more historic attractions in the city than can be found along the boardwalk. Gardner's Basin, located just off North New Hampshire Avenue, offers sightseers a glimpse of the city's rum-running past through a series of small museums, guided tours and boating excursions. In addition, visitors can also tour the Civil War-era Absecon Lighthouse, former speakeasies such as the Knife & Fork Inn restaurant, and Lucy the Elephant, a six-story-tall structure in the shape of an elephant that served as a beacon for rum-runners during Prohibition.
Shopping
Atlantic City offers a variety of shopping venues, whether you're looking for designer clothing, souvenirs or saltwater taffy. Most of the shops are concentrated along the Boardwalk and in the Tanger Outlets along an area known as The Walk. However, newer areas such as The Piers Shops at Caesars and The Quarter at Tropicana also offer shopping opportunities for designer clothing and specialty items. Clothing and shoes purchased in Atlantic City are not subject to sales tax, but people coming from out of state might have to pay sales tax on larger purchases upon their return home.
Beaches
One of Atlantic City's biggest draws is their beaches, which are free to visitors and offer a variety of activities such as kayaking, fishing, volleyball and surfing. In addition, there are numerous bars, cafes and restaurants along the beachfront, so food and refreshments are close at hand. Lifeguards are on duty from July 1 until Labor Day and most beaches are served by a District Station, which provides first aid and EMT services in the event of an emergency.
Gambling and Nightlife
Gambling and nightlife are synonymous with Atlantic City with good reason; the city features more than a dozen casinos and numerous night clubs, bars and dance halls. Many of the casinos found throughout Atlantic City also include bars and night clubs, so it's possible to take advantage of both without leaving your hotel and, unlike many other cities, Atlantic City bars are open 24 hours a day, so there's no last call.


About 4* Warwick Hotel in New York
New York is an iconic, trend-setting city that is best explored on foot. With world-class shopping, a myriad of dining options, and nightlife that goes on and on, there is never a dull moment at Warwick New York Luxury Hotel in Midtown Manhattan. Close to historical monuments and near Central Park, and arenas and theatres, it's perfect for a weekend getaway with the family. This melting pot of cultures means the energy within the city is almost palpable.
Hotel Amenities
Sustaining a legendary tradition of attentive service and luxury, the Warwick New York Hotel has often been called "a well known, perfectly located oasis of quiet luxury". The hotel is an elite retreat in the heart of New York City.
Guest can enjoy the following deluxe amenities: • High speed internet & wireless (Basic $9.95, Premium $16.95 per 24 hours)
• Private Terraces
• Fitness Centre
• Valet Parking
• Same-day valet dry cleaning services (Mon-Sat)
• In-room dining (breakfast 6:30am-11:00am, dinner & light fare 5:00pm - 6:30am)
• Business Centre with Skype, free printing and airline check-in
• Express check-out
• Multilingual staff
• Complimentary newspaper (Mon-Fri)
• Ice machines
• Operator assisted wake-up calls
• Limousine transfer and other transportation services (prices vary)
Dining
With amazing restaurants and delectable dining right on property, Warwick New York Hotel is itself one of the best places to eat in Midtown Manhattan.
Murals on 54
Lead by Executive Chef Steve Taylor, Murals on 54 is named for its stunning murals. Guests enjoy the art as a backdrop as they delight their palates with modern American cuisine. Murals is an elegant enough spot for parties, too.
Randolph's Bar & Lounge
Named after William Randolph Hearst, the atmosphere is filled with a sophisticated timelessness. Relax in the iconic lounge designed to resemble all the comforts of a living room. This is the place to be for inspired American fare, a taste down the extensive wine list, lunch, dinner or even a late-night snack.
Rooms
Located in the heart of the city, Warwick New York Hotel's 426 guest rooms and 67 suites including signature Manhattan suites each blend in elegant sophistication and comfort.
The rooms were designed to reflect the history of the hotel, which have a close tie to the old Hollywood glamour, with a touch of modernism.
All accommodations are equipped with the latest conveniences and technologies to satisfy the hotels discerning guests, guaranteeing a convenient and memorable stay with this iconic hotel. These rooms all feature marble lavatories, large work desks with international plug ins, LCD TVs, room service and a fully stocked minibar.
This historic luxury hotel in Midtown Manhattan was built in the 1920's, therefore, the infrastructure allows for slight variations in each room's size.
Premier Rooms
________________________________________
Premier Rooms are exquisitely designed with simple yet elegant accommodations. Neutral palettes of champagne and pistachio exude a sense of luxury and tranquility. The rooms overlook the interior of the hotel making it perfectly suitable for those seeking a peaceful and quiet stay. Each accommodation features one-king or two double beds and Gilchrist & Soames spa therapy bath amenities.

Size: 250-280 sq ft
On The Avenue Suites
________________________________________
These lavishly appointed suites echo vintage Hollywood. Guests enjoy expansive views of New York City's famed Avenue of the Americas, home to Radio City music hall, Rockefeller Plaza and much more. Featuring over 650 square feet of space with a separate bedroom, living area and dining arrangement, each suite includes a large marble bathroom with Gilchrist & Soames products, Keurig Brewing System with complimentary coffee and tea, High – speed wireless internet, a widescreen TV with interactive multimedia system and a work desk with international plug ins.

Size : 650 sq ft
About 4* Bally's Hotel in Atlantic City
Bally's is the premiere Atlantic City hotel and casino destination for non-stop action and fun. Guests have the opportunity to take advantage of the fantastic amenities and Atlantic City attractions that are offered including access to top-notch meeting facilities, a world-class spa, and the lush pool. Guests can also shop 'til they drop at one of the many nationally-known stores at Bally's. Of course the Las Vegas of the East boasts one of the most exciting nightlight experiences in the country. The list of things to do in Atlantic City is endless. Explore the best Atlantic City attractions and activities at Bally's today.
Once you've had your fill of Atlantic City entertainment and excitement, the accommodations at Bally's offer inviting interiors and a wealth of amenities designed to make your stay a luxurious one. There is no better place to unpack your suitcase for one night or a much longer stay. Choose your ideal escape from an array of classic, deluxe, premium or garden tower rooms.
BALLY'S ATLANTIC CITY CASINO
At Bally's Atlantic City Casino, enjoy Atlantic City gaming and a show! For more interactive Atlantic City gambling, Bally's offers live poker games. Whether you're a novice or an expert, join daily poker tournaments at 1 p.m. and 7 p.m. (9 p.m. Fridays).
ATLANTIC CITY RESTAURANTS
Get ready to satisfy your appetite. Bally's Atlantic City Resort welcomes you with delectable tastes from around the world. With fine Atlantic City restaurant options including steak and seafood and casual fare ranging from burgers and Asian dishes to oysters and breakfast staples, dining at Bally's Atlantic City Resort puts you in the centre of the action.
ATLANTIC CITY SHOWS
Stay at the center of the action with live entertainment from the area's hottest DJs and favorite local bands. Bally's Atlantic City offers music in both intimate settings and large party atmospheres.
Alternative Hotel Options
Amenities Style 01
Maecenas vitae turpis condimentum metus tincidunt semper bibendum ut orci. Donec eget accumsan est. Duis laoreet sagittis elit et vehicula. Cras viverra posuere condimentum. Donec urna arcu, venenatis quis augue sit amet, mattis gravida nunc. Integer faucibus, tortor a tristique adipiscing, arcu metus luctus libero, nec vulputate risus elit id nibh.
WI_FI

swimming pool

television

coffee

air conditioning

fitness facility

fridge

wine bar

smoking allowed

entertainment

secure vault

pick and drop

room service

pets allowed

play place

complimentary breakfast

Free parking

conference room

fire place

Handicap Accessible

Doorman

Hot Tub

Elevator in Building

Suitable for Events
Amenities Style 02
Maecenas vitae turpis condimentum metus tincidunt semper bibendum ut orci. Donec eget accumsan est. Duis laoreet sagittis elit et vehicula. Cras viverra posuere condimentum. Donec urna arcu, venenatis quis augue sit amet, mattis gravida nunc. Integer faucibus, tortor a tristique adipiscing, arcu metus luctus libero, nec vulputate risus elit id nibh.
WI_FI

swimming pool

television

coffee

air conditioning

fitness facility

fridge

wine bar

smoking allowed

entertainment

secure vault

pick and drop

room service

pets allowed

play place

complimentary breakfast

Free parking

conference room

fire place

Handicap Accessible

Doorman

Hot Tub

Elevator in Building

Suitable for Events
Frquently Asked Questions
We know that you that your holiday is important to you and that you will have many questions about the destination, the accommodation, how the booking process works and what guarantees you have. We have tried to provide the answer to the most Frequently Ask Questions below. If you have a particular question that we have not thought of, please let us know - We're happy to help.
Things to Do
We are delighted to suggest a number of Tours and Excursions that might be of interest to you. If there is something you would particularly like to see or place you would like to visit which is not shown below, please let us know in the "Additional Comments" section on the Enquiry Form and we will be pleased to send you details.